BusinessMATE, the versatile and ingenious enterprise resource planning (ERP) and manufacturing solution, is acknowledged by GoodFirms as the best Manufacturing Software and the best ERP Software.
GoodFirms is one of the most renowned and reliable review, listing, and ranking platforms delivering high-grade services, helping businesses make better, informed decisions. Our innovative strategies, advanced research methodologies, and genuine reviews generate trust among companies looking for the best products and services in different domains. Today, GoodFirms stands as the most authentic and well-founded global B2B platform that brings together numerous service companies and products under one roof and assists them in making better, informed decisions to enhance profits.
Why Is BusinessMATE the Best Manufacturing and ERP Software?
BusinessMATE is a cloud-based software designed to cover the end-to-end ERP and manufacturing needs of businesses across the globe. The software caters to a broad range of industries; however, businesses in the manufacturing sector find the software useful. BusinessMATE ERP software is fully customizable to match the varying needs of customers. With numerous valuable features, the software enables businesses to enhance performance, save time, conserve resources, improve efficiency, increase productivity, reduce costs, make better decisions, boost profits, and gain a competitive advantage.
The BusinessMATE system offers all-inclusive ERP and manufacturing tools, including enterprise resource planning, logistics management, maintenance management, MES, material requirements planning, quality management, shipping management, asset management, customer management, inventory management, order management, project management, safety management, client management, warehouse management, purchase order management, supply chain management, quotes/estimates, tracking & visibility, reporting & analytics, accounting integration, and more. Moreover, it allows businesses to automate and better track various routine processes, like purchase order, invoice, credit statements, products, bill of materials, work in progress, suppliers, and staff.
The company provides reliable customer support for the BusinessMATE system in various forms, including email and phone, to help the users understand and leverage the software better.
Benefits of Using BusinessMATE Software
BusinessMATE provides numerous ERP and manufacturing tools on a unified, cloud-based platform.
Streamlines and automates various ERP and manufacturing processes ensuring enhanced accuracy through elimination of human error.
Automated order and document management helps increase productivity and profitability.
The software facilitates automatic, one-click invoice generation and auto-application of centralized taxes, allowing faster payments and collection with 100% billing accuracy.
Allows businesses to coordinate and optimize raw material with production requirements, ensuring better order planning in larger batches, reducing overall production costs.
Offers extensive B2B communication tools, helping businesses better identify prospective buyers, disqualify low-quality leads, and shorten their sales cycle.
Provides advanced data analytics to analyze sales, purchases, profits, and deficits data for better decision-making.
Enables in-depth reporting in various forms, including Bar Graphs, Pie Charts, and XY Charts.
BusinessMATE software allows cross-platform and multi-device operability.
The software is highly customizable, matches varying business demands, and syncs with evolving business strategies.
Allows seamless integration with various accounting systems, including QuickBooks, Simply Accounting, and many other bookkeeping systems.
The company provides diligent support, training, and routine updates for the BusinessMATE system to help users make the best use of the software.
Modules and Features of BusinessMATE System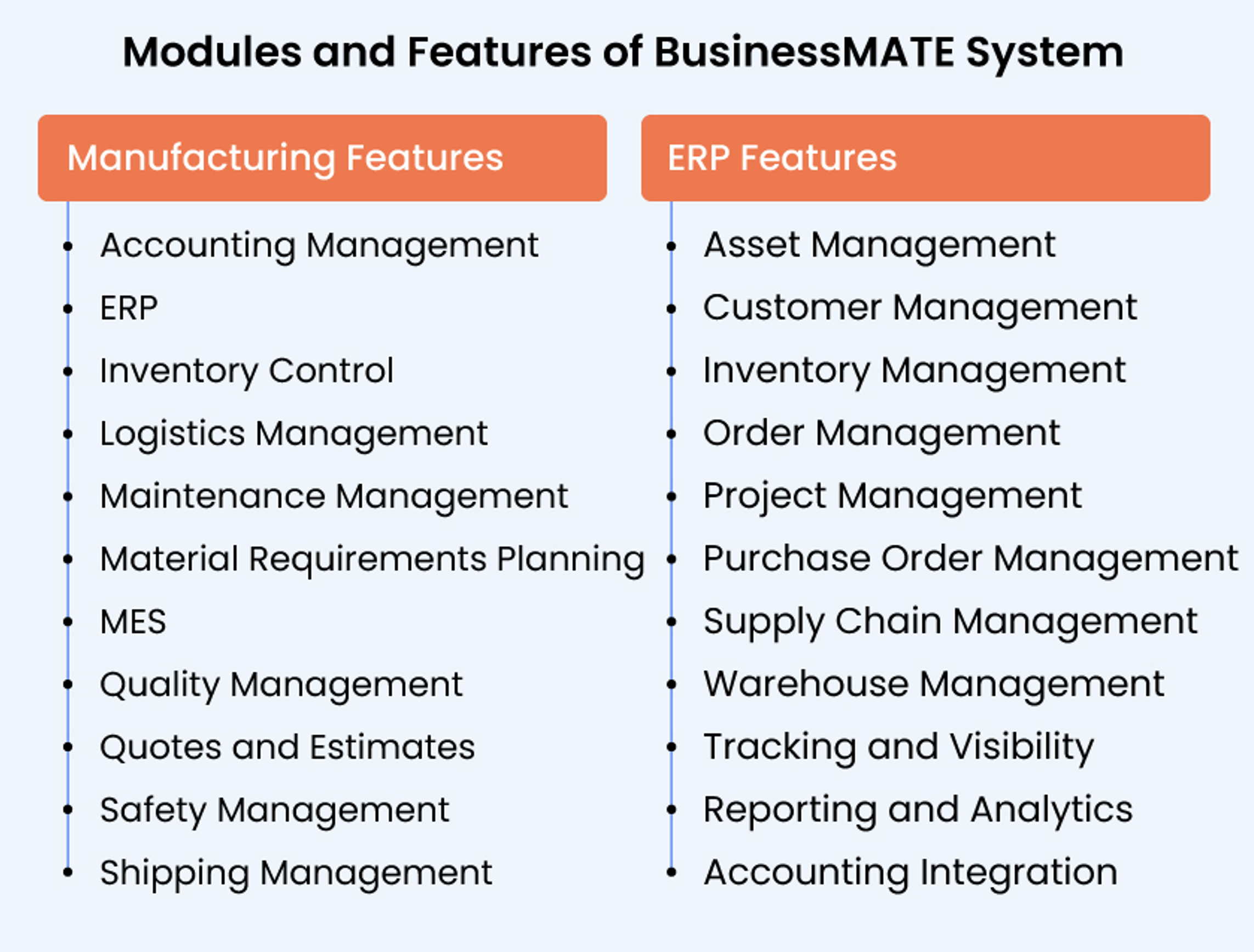 Manufacturing Features
Accounting Management
ERP
Inventory Control
Logistics Management
Maintenance Management
Material Requirements Planning
MES
Quality Management
Quotes and Estimates
Safety Management
Shipping Management
ERP Features
Asset Management
Customer Management
Inventory Management
Order Management
Project Management
Purchase Order Management
Supply Chain Management
Warehouse Management
Tracking and Visibility
Reporting and Analytics
Accounting Integration
Pricing of BusinessMATE Software
The company offers a simple, subscription-based pricing model for the generic BusinessMATE ERP and manufacturing platform. The pricing for BusinessMATE is cost-friendly and reasonable for the versatile offerings, convenience, utility, and high return on investment that the software assures businesses through enhanced ERP and manufacturing process management. Customization is reasonable priced as well.
Performance Evaluation of BusinessMATE Software by GoodFirms
GoodFirms is globally well-known for identifying, listing, and ranking service companies and products based on their performance, innovation, capabilities, and authentic user reviews. These rankings stand as the most trusted, dependable, and prestigious recognition worldwide in the B2B sector, serving as a reliable ground for our users to make informed decisions. The listed companies constitute market leaders and top performers who have earned and maintained a remarkable position globally through their persistent performance, quality, and credibility.
Following an elaborate, unbiased, and systematic evaluation process, GoodFirms identified and ranked BusinessMATE as the best ERP Software and the best Manufacturing Software on its platform for offering best-in-class ERP, manufacturing, inventory, order, supply chain, warehouse, and customer management tools on a unified platform, enhanced user experience, high customizability, and reasonable pricing.
About GoodFirms
GoodFirms is a Washington DC-based review, listing, and ranking platform for software and services. GoodFirms empowers companies to choose the best software from its curated list of industry-leading software in various categories to enhance profits and grow beyond imagination. It performs extensive research and analysis to evaluate and rank the listed software on critical parameters like features, uniqueness, ratings, and verified user reviews. This meticulously curated listing and ranking highlights the top performers for each software category and augments the buying credibility of the software.
About the Author
Lisa Brian is presently working as Team Lead for Content with GoodFirms, a Washington DC-based B2B review, listing, and ranking company. Lisa has a strong background and passion in writing about emerging trends in the software industry and cutting-edge technologies. With expertise in researching, gathering information, and crafting engaging content, Lisa helps companies digitally communicate their vision and mission.